Embracing my son's autism diagnosis opened my eyes to countless blessings
When I realized my son might be autistic, my heart and mind were racing in all directions.
I searched online to find out more about the "signs and symptoms of autism." Why didn't I see it sooner? Why is this happening to our child, why is this happening to us, I wondered. I felt helpless and couldn't see beyond my fears.
Now, almost six years later, even though it's been a bumpy road, a lot of the regret and worry have faded. Through our son, we've been able to see God's mercy behind every challenge.
These days, we welcome questions, and the most common one is: "How did you know your child has autism?"
How Did You Know? Recognizing the signs and symptoms of autism
One question kept ringing in my head after my son's 18-month checkup: Does he look and point?
My husband Michael and I had never had many concerns about the health of either of our two children. So, at each checkup, we'd become accustomed to answering "yes" to all of the questions the doctor would ask. Does he have a normal appetite? Regular bowel movements? Is he walking? Yes, yes, yes…
And I had said "yes" to indicate that he does "look and point."
But after seeing the pediatrician, I was looking at our son. The question wouldn't go away. DOES HE LOOK AND POINT??
I knew it wasn't really a big deal if Mateo didn't speak yet, but I wanted to know why his doctor asked whether he could "look and point."  Deep down, I had a hunch about what it could be. So, I looked it up. 
Search query: "toddler cannot look and point"
Results: "Signs and Symptoms of Autism"
From my laptop, I looked up and stared at Mateo as he played.  As if he was moving in slow motion, I could check off so many of the signs and symptoms.
He does not respond to his name
He does not look and point
He does not make eye contact
He does not have any words
He does not notice other children
He does not imitate others
He does not "share" moments with anyone
And as all of the indicators piled up, there was Mateo running around in a circle, flapping his hands. Two more indications.
His eighteen months flashed before me, and I wondered why I hadn't noticed earlier.
Mateo was born almost six weeks early, but he'd always been an easy baby to care for. He was our second child, quiet and content, and could spend hours playing. But over the past couple of months, he'd been pretty much in his own world by himself.
He would sit and play and stack his toys, and he would be perfectly happy to receive food or drink at the appropriate intervals. He would cry, of course, if something was wrong. But that was pretty rare.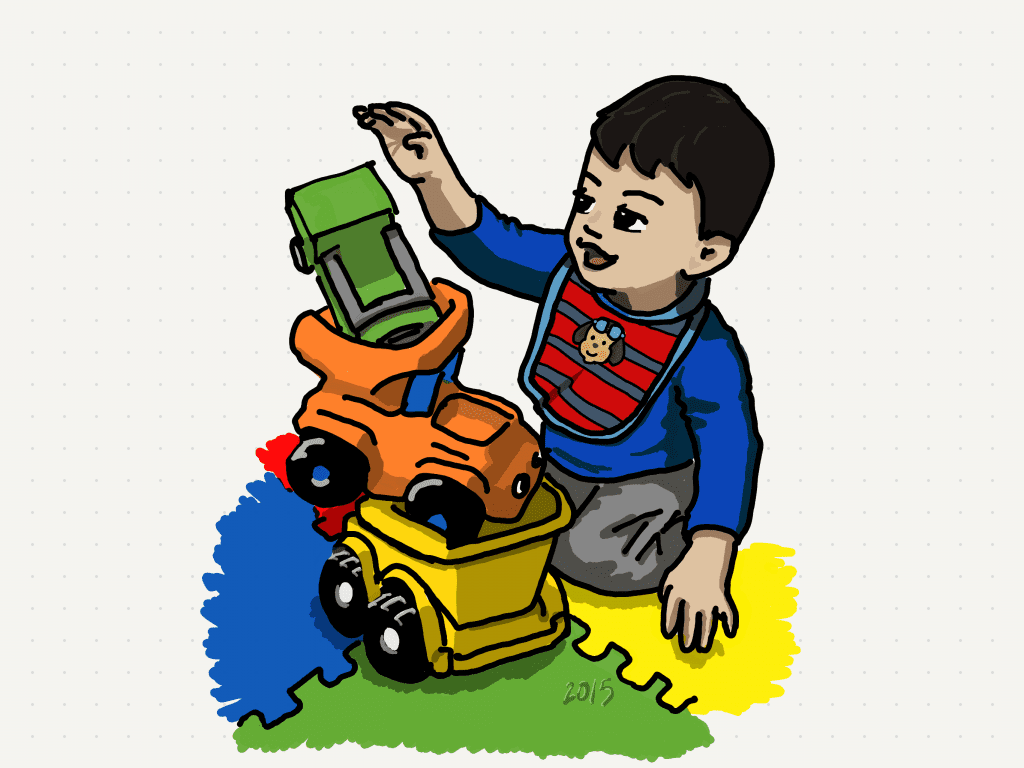 And he hadn't ever tugged at my sleeve or asked me for anything. 
My heart was breaking as I made one realization after another.
When Mateo was about a year old, he had started to babble. Then, one day, my husband Michael was about to teach in the Children's Worship Service, and as he went up to the podium, I know I heard Mateo say very clearly: "Daddy." That was December, and Mateo was 14 months old.
But it was March now, and I couldn't remember the last time I'd heard Mateo make any recognizable sounds.  Was that an instance of regression?  Another indication.
Hopeless, we turned to God in prayer for our child
After agonizing over Mateo's first eighteen months, my mind jumped ahead to the future.  Will he ever speak?  Will he be able to take care of himself? Get married? Have a family? How long will we be around to help him? Then I wondered, will he be able to have faith and serve God?
At this point, Michael arrived home, and I shared all the heart-wrenching thoughts that filled my head.
We then took every one of our worries and gave them to God in prayer.
My child was diagnosed with autism, so now what? Seeing the silver linings
A few months after my flurry of realizations, our son was diagnosed with Autism Spectrum Disorder.
Mateo is now seven years old, and although he is nonverbal, he can say some words and phrases, and makes many happy sounds. He's making much more eye contact, he's sharing moments with others, and he's using his iPad as an AAC (assistive and augmentative communication) device. Through an app called Proloquo2Go, he can form sentences and make requests such as "Can I have more chocolate?" He's even learned how to join us when we pray, and can use his iPad to say "Amen."
These are just a few of the silver linings we've seen since his diagnosis, and we feel we've also grown in three key areas:
1.   Resilience
Mateo often wakes up after midnight and stays awake for hours, so we've been sleep deprived for years. We've had to become stronger, spiritually for sure, but physically and mentally as well. We've worked on dietary changes for Mateo and for ourselves and our daughter, and we've tried to improve our fitness, so that we can keep up on this autism journey.
2.   Perspective
Our understanding of Mateo and autism has also helped my husband and I understand all people better. We've learned about "neurodiversity," the idea that neuro-atypicals, including those with autism or attention deficit hyperactivity disorder (ADHD) might think and process things differently than "neurotypicals," but they are different, not less. We've developed better working relationships with our colleagues, and I feel I have a better understanding of the wide range of strengths and challenges of the high school students I teach.
3.   Love
Even though we've never heard him say it, we feel Mateo's love, and because of him our marriage is stronger. Through Mateo, my husband and I have learned that words make up such a tiny, tiny part of communication. We've become more aware of how we respond to each other, we look at each other more, and we understand each other better.
We see this in our daughter, as well. Micah, now nine years old, had to do a lot of growing up at such a young age as she developed in her autism understanding. But we've seen her develop a very special relationship with Mateo. And we know he adores her—he shows it in his smile and his giggles with her, and in how he leans in for a kiss.
Lately, Mateo has been coming up to Michael and me when we're sitting on the sofa. He takes our hands and puts them together. He makes sure we don't let go. Then he walks away, smiling. Mateo has really taught us to love more than we ever thought we could.
Every night Micah prays from the bottom of her heart: "Dear God please help Mateo do all the things we do." But as we're realizing, Mateo's actually doing so much more—he's encouraging us to be stronger as a family and to trust God as He guides Mateo on his journey.
Meeting the needs of my child with autism
It's overwhelming. And if you're there, you're not alone. Listen to "Raising An Autistic Child" in which a mom realizes the true purpose of being a parent when she learns her son is autistic and finds hope through faith. I got the opportunity to speak with Emirick about her experience on the new INC Media podcast "Making Changes." It was a moving and inspiring experience for me to see the journey of raising a child with autism from the perspective of someone who has been there. I hope you walk away feeling hopeful after listening to it.
As you work towards meeting the needs of your child with autism, there will always be new challenges that require resilience, such as learning about IEPs (Individual Education Plans) and advocating for the best therapy and education. So it might help to listen to "Examples of Conscious Parenting," in which a working mom of two shares how her fears and hopes keep her present for her children and allow her to be a conscious parent.
And for the fathers out there, you can read about when Michael became a Christian dad, and what he learned as he navigated his new responsibilities.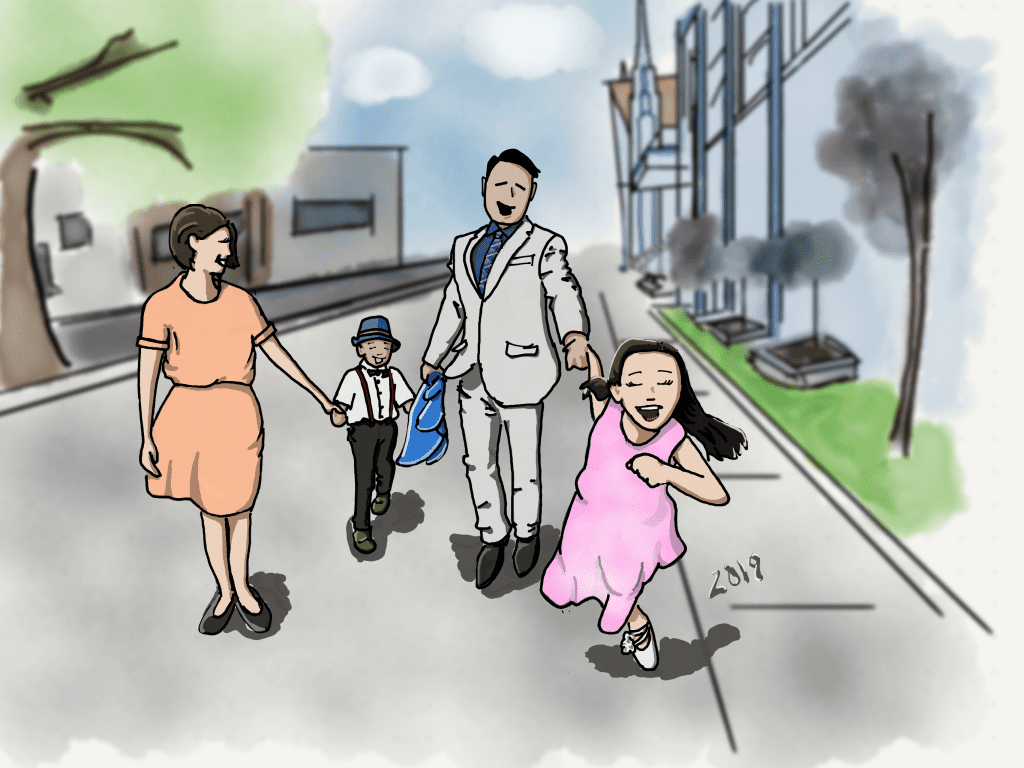 There is always hope in this parenting journey
No matter where you might be in your journey towards understanding and helping your child, keep loving your child and just know that you're not alone, and know that hope can be just a prayer away. As members of the Church Of Christ, we firmly believe that God hears the cries and prayers of His people and gives them strength to face all challenges in life.
For our family, we focus on the strengths and abilities that the Lord allows to develop, not only in Mateo but in each of us as well.
We still have challenging days, but we continue to put our faith in God. He always provides the help we need and allows us to see the biggest blessings in the smallest of things.