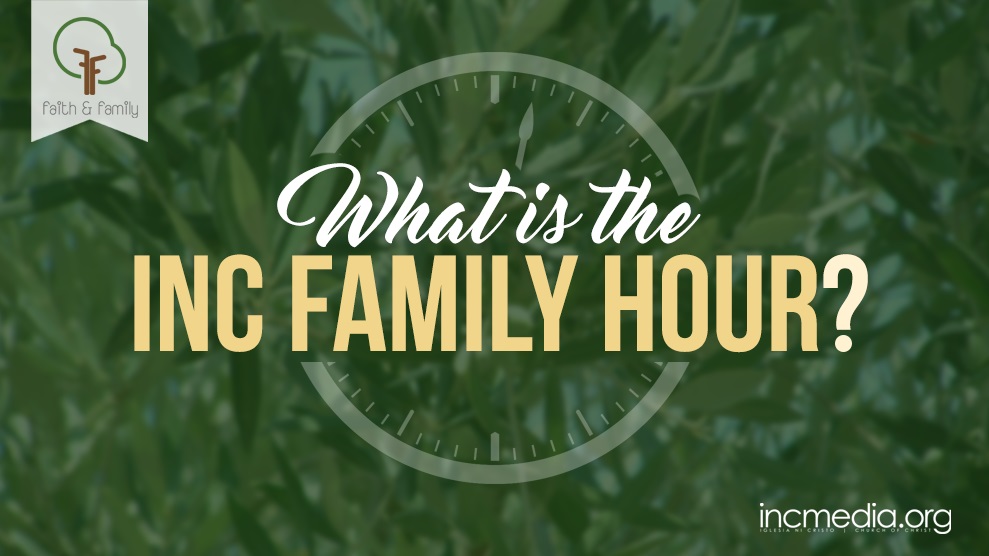 Making Time for Family
When the Church Administration launched the Year of the family in 2000, it was a way to ensure that the faith of each member of the family was being honed at home. Now we all love family time. We've talked about it, blogged about it and suggested so many different ways to pack in meaningful quality moments, even into the tiniest of opportunities. But even the most meaningful quality time cannot replace the structured INC Family Hour. So here are seven reasons why we should be holding the INC Family Hour:
We're stronger together! The INC Family Hour is an opportunity for members of the family to deliberately spend time with each other –that means you go out of way to do this activity. But this has to start with the head of the household! Set the time and date for your weekly family hours and make sure everyone is in attendance.
You get to pray, and you get to pray, and YOU get to pray! Each member of the family needs to know how to pray and what to pray for. We know you've been having your daily family devotional prayers, but before praying for Family Hour you have an opportunity to talk about what you're going to pray for. What are our family goals this week? Praying together in a thoughtful deliberate manner, also ensures God's safekeeping and sound minds during times of distress.
No alarms and no surprises! This is an opportunity to give the speaking stick to the kids and open up the discussion about their feelings, problems and aspirations. How would you feel if best friend Janet knew that your daughter applied to Space School before you? Now that may seem out of this world (ha!) but as parents you should be the first to know your kids inside out.
Be the cool parent! Kinda… Before you start wearing crop tops and bust out in the new dance fad, you have to know that one of the coolest things you can do as a parent is to listen to your kids with interest and understanding. No matter how seemingly small or mundane the topic is, when you show them your interest and understanding for that, then when it comes to the big stuff they'll feel just as comfortable approaching you first –not best friend Janet.
All is full of love! This is your chance to teach, advise, talk and respond to the kids –calmly and with love. The Family Hour is a safe haven, not a bait and switch tactic that in the end becomes a reason to lecture, yell or get mad at the kids. If it's serious and they are in big trouble –then that's probably the moment they need you to be calm and have your head on right in order to give good advice. Calm is key!
Tell me more, tell me more! Problems will come and go. The more everything is up front and out in the open the more all of us can find solutions together as a family! So keep talking! The sooner we can find solutions the less the chances are of them becoming serious.
Champions of cooperation! When you work together to find solutions to problems, you are also teaching understanding, tolerance and compromise. You'll also find that this practice of cooperation and open communication will extend to other aspects of your life.
So remember the official structure sent by the Church Administration: Prayer, reminders and open forum (including all of the above), and then a closing prayer before some good family fun bonding activities. In our day and age it has to be noted to put away the electronic devices during the INC Family Hour –it's one hour, you'll survive and the return on your time investment will be priceless.