The high was 32 degrees Fahrenheit, it wasn't snowing but we could feel the cold piercing through our multiple layers of clothing. As a Southern California resident, the freezing temperatures of Regina, Saskatchewan, Canada were foreign to me, a giant push outside of my usual comfortable 70-degree weather. I wore sub layers, mid layers, top layers and all kinds of layers just to stay warm. It was so cold I'd even forget to take my gloves off when we were indoors.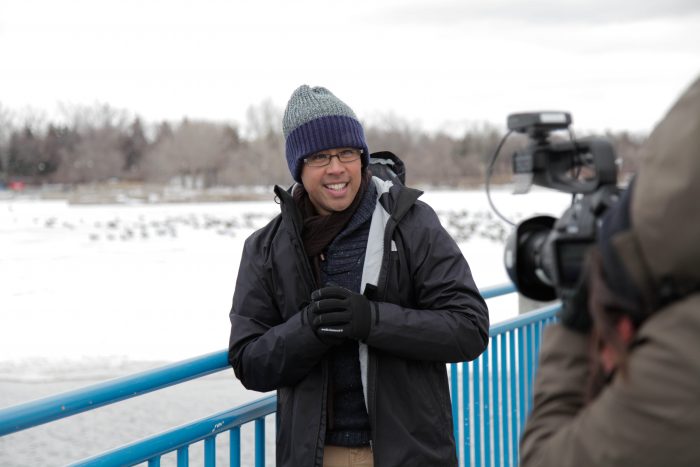 I wanted to put on another layer, a facemask and one of those puffy coats we only wear when we go snowboarding in California, but I couldn't. I was going to be standing in front of the camerad looking like a marshmallow was not an option.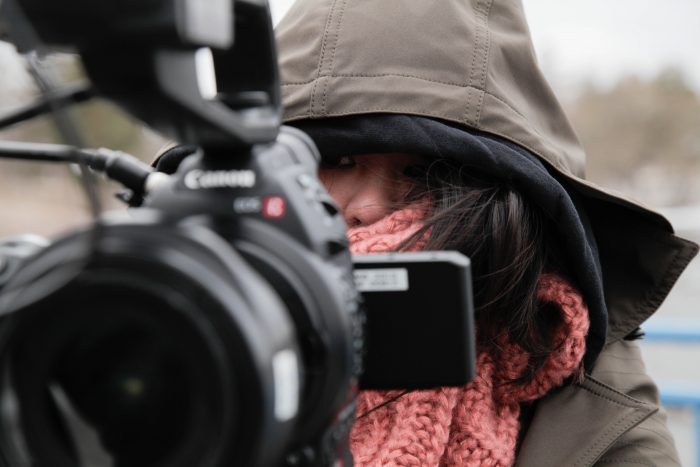 [Caption: Janlynn Valerio, a crew member, stays bundled up during the shoot on Wascana Lake in Regina. // Caption 2: Crew members stay warm by hopping around during the shoot]
[Caption: Thinking warm thoughts while shooting on Wascana Lake]
But when God pushes you out of your comfort zone, you can be sure He's about to teach you something about yourself.Never in my dreams did I think I would be hosting a show, traveling to different cities and different congregations of the Church Of Christ, witnessing their renovations and dedications, and meeting great people along the way. I am more of a behind the scenes kind of guy. If you need help building something, I'm your guy. If you need a camera operator, that's me. If cables need to be run, I'm on it.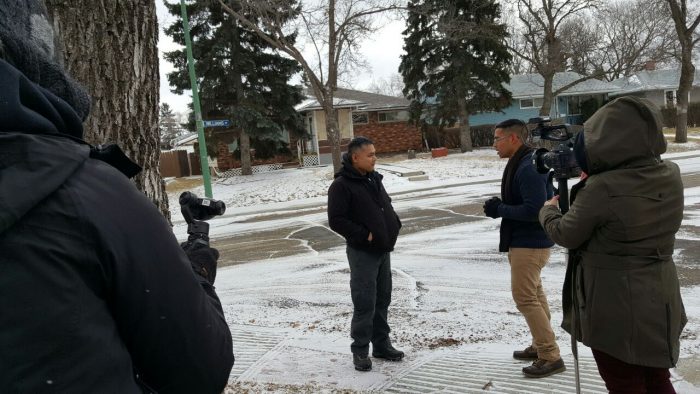 [Caption: Interviewing Michael Bigayan, a pioneer from the local congregation of Regina, Saskatchewan, Canada]
I still remember the first time we shot the intro to the show, the moments leading up to that, I was so self-conscious and my stomach was filled with knots. I felt my whole body numbing. But as soon as that red light on the camera turned on, I just let go and went for it. It was a blur and I am sure my first take was probably just footage of me frozen in front of the camera or just mumbling lines that didn't make sense, but that was the moment I knew it was the beginning of a very special part of my life.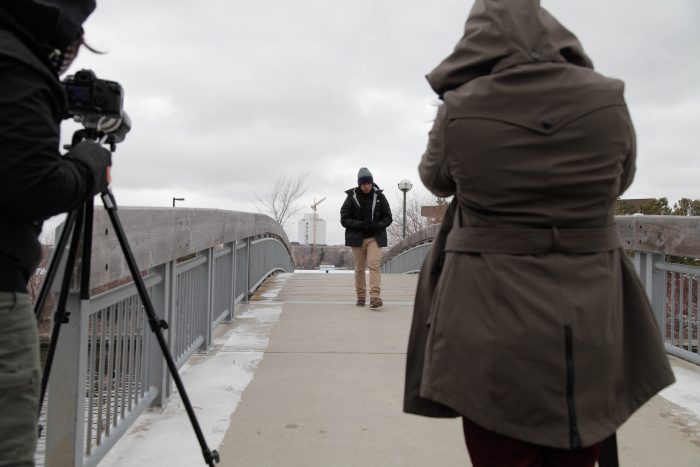 [Caption: Nan had to borrow a warm enough coat from Regina native and fellow INC Media Service staff, Michael Bigayan, during the shoot]
It is an honor and privilege to be on this show. Each time we meet the amazing people behind the buildings and hear their wonderful stories and how impactful these renovations and houses of worship have been to their lives, I get to witness God's plan unfolding.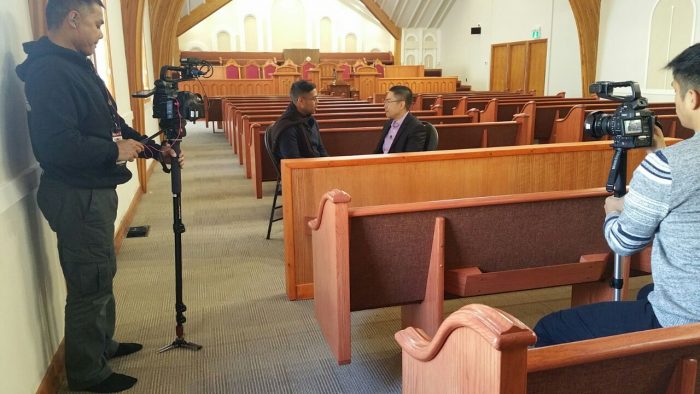 [Caption: Nan during his sit down interview with Edwin Malang, the head deacon from Regina, Saskatchewan, Canada]
These opportunities have definitely pushed me out of my comfort zone and pushed me to do things I never imagined I would do, even how to smile in the freezing temperatures of Regina, Saskatchewan, Canada.
Click to watch Blueprint in Regina, Saskatchewan.
Nan Zapanta is the host of Blueprint, which airs on incmedia.org and DirecTV2068. Nan has a background in industrial design and helps design and build sets for INC Media Services, along with being a camera operator. As a chapel caretaker's son, he spent many years exploring the house of worship in Houston, Texas.