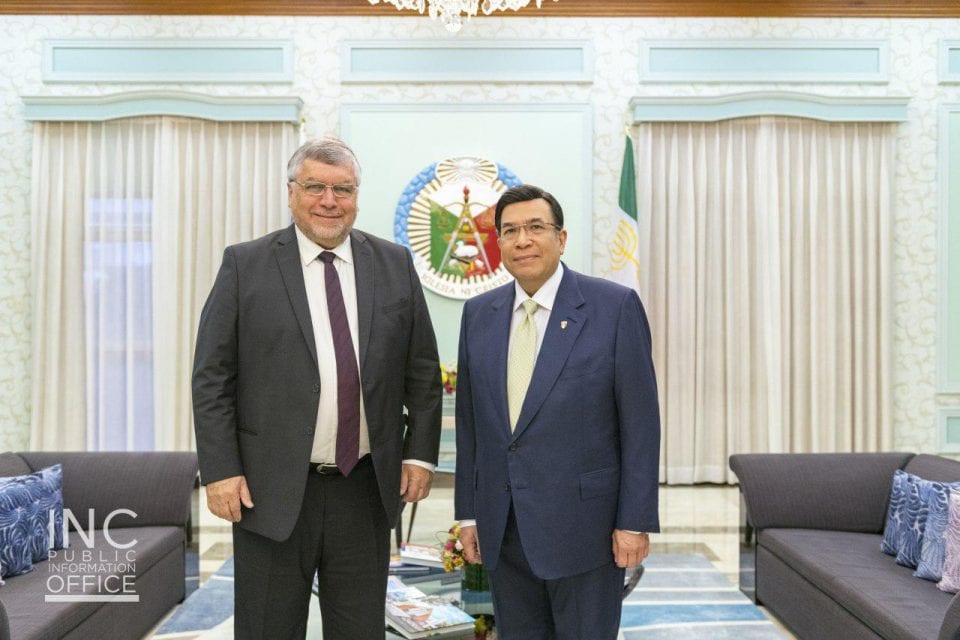 Israel Ambassador Reaffirms Israel's Friendship with the INC in 2nd Courtesy Call to INC Executive Minister
EAGLE NEWS –JUNE 11, 2018
Israeli Ambassador to the Philippines H.E. Effie Ben Matityau visited the Iglesia Ni Cristo (Church Of Christ) Central office on Monday, June 11, 2018, to make a courtesy call to INC Executive Minister Brother Eduardo V. Manalo for the second time, two months before the end of his tour of duty in the Philippines.
Ambassador Matityau, who first served as ambassador to the Philippines in August 2014, said he will be leaving the country with fond memories of Philippine warmth and hospitality, as well as the special "great friendship" between Israel and the Iglesia Ni Cristo.
"The INC is indeed one of our pillars of friendship in the Philippines," Ambassador Matityau said.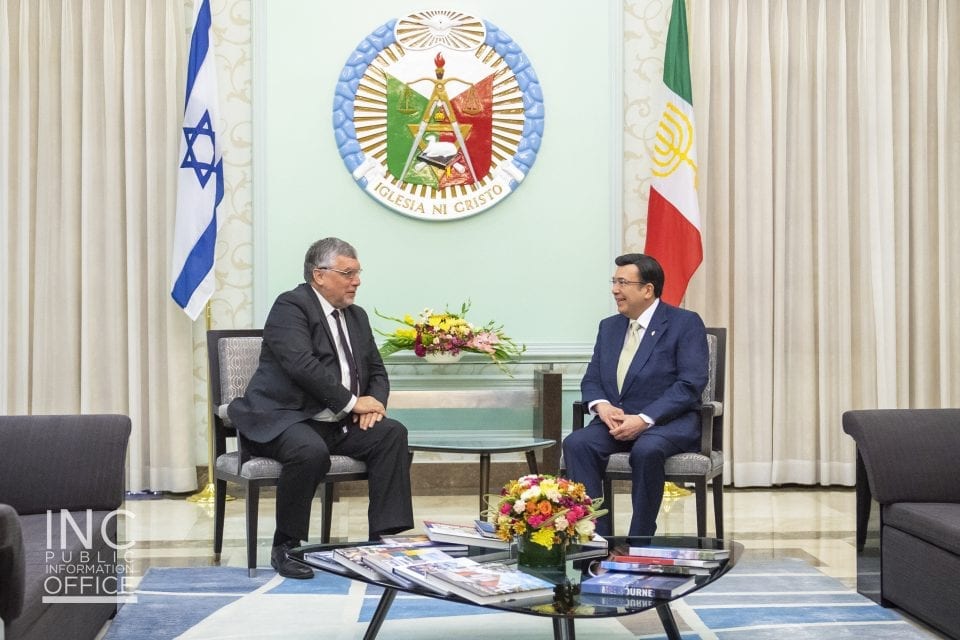 The Israeli ambassador was also warmly greeted by a crowd of INC Central Office ministers and other volunteer workers who excitedly waved small flags of Israel and the INC, when he arrived before 9 a.m. for his courtesy call to the INC Executive Minister.
The visit was significant as it strengthened the friendly relations between Israel and the Church Of Christ.
The first time that the Ambassador visited the INC Central Office was in September 2016.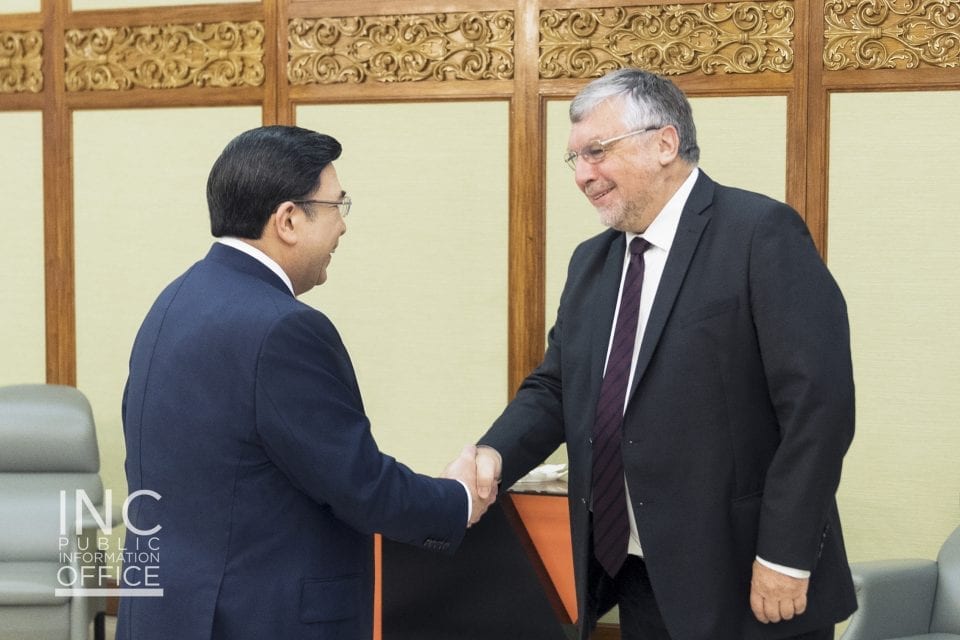 INC protocol officer Brother Joel San Pedro said Ambassador Matityau's second visit, just before his tour of duty ended, reaffirmed his friendly relations with the INC Executive Minister, as well as the good relations between Israel and the Church Of Christ.
"Since Ambassador Effie Ben Matityau is closing his tour of duty as ambassador of Israel to the Philippines, he wanted to have the opportunity to see again Brother Eduardo Manalo because of the friendly relationship that he has with the Executive Minister and that relation that Israel has with the Iglesia Ni Cristo," INC minister San Pedro said.
He said that the Israeli ambassador was aware of how busy the INC Executive Minister will be with the upcoming Church activities related to the Church's celebration of its 50 years in the West.
The INC or the Church Of Christ, which was registered in the Philippines on July 27, 1914, held its first worship service in Hawaii and California in July 1968 through then INC Executive Minister Brother Eraño G. Manalo.
Those same missions that began as small groups in Hawaii and California have rapidly expanded to a worldwide mission that now encompasses over 140 countries and territories, including Israel.
"Before Ambassador Matityau's first visit to Brother Eduardo Manalo in 2016, the INC Executive MInister had officiated a special worship service which included the ordination of ministers in Jerusalem, Israel," INC minister San Pedro said.
He also noted that the Ambassador's efforts in sharing his country's innovations and technological know-how in agriculture, technology and education was very much appreciated.
Ambassador Matityau commended INC's efforts to develop eco-farming communities not only in the Philippines, but also in other countries.
He said that these are also contributing to the efforts in poverty alleviation in the world.
"Agriculture is something that is going to be with us forever. People cannot eat pixels. They cannot eat dotcoms. Nothing digital can be edible," he said in a separate interview.
"So we need to make sure that farming and the farming community is not going to be associated with poverty, but rather turn it into a most viable and strong community that adds to the economy, that adds to society, and is a part of growth," the Ambassador said.
"Today, unfortunately, in the developing world, much of the farming is associated with poverty," he observed. "We have to change this formula. And it is within our capacity. It is in our hands and we can do that."
The INC has at least 29 eco-farming communities in the Philippines and in Africa, and more sites are being eyed for development as the Church is committed to its efforts to fight poverty.
Last May 6, it conducted a worldwide walk to fight poverty which was participated in by more than 300 sites across 18 time zones.
The Israeli ambassador said that he considered these efforts of the INC to set up eco-farming communities, as commendable.
He said that Israel will always be ready to help in opening up avenues to share their knowledge in agriculture, technology and other innovations.
He stressed that Israel will always welcome and treat overseas Filipinos working there fairly as he noted that Filipinos are welcome to visit his country. In fact, there are no visa requirements for Filipinos who want to take a tour of Israel for a maximum of 90 days.
Ambassador Matityau also expressed admiration with the Iglesia Ni Cristo under the leadership of Brother Eduardo for extending the Church's care to Filipinos all over the world, including those in Israel, through various outreach projects.
The INC had been conducting various socio-civic and outreach activities in various parts of the world, including in Israel.
"You are friends and we consider you as friends. And you can look at us as friends and we look forward to a good partnership on our friendship," he said on the special friendship between Israel and the Church Of Christ.
(courtesy Iglesia Ni Cristo Public Information Office)

(Eagle News Service)
Original Source:
"http://www.eaglenews.ph/israel-ambassador-reaffirms-israels-friendship-with-the-inc-in-2nd-courtesy-call-to-inc-executive-minister/"