When I was a 8 years old, I had a favorite baby doll, with red yarn hair and cowboy boots, named Jackie. I would gently swaddle her in a blanket, place her in a laundry basket, and pretend someone had left her on my doorstep for me to raise. I had discovered a love for a cabbage patch kid who came complete with a name and birth certificate; I didn't know it yet, but this would be my first introduction to adoption.
Growing up, you could say that I did everything by the book or, rather, the bible.
I got married shorty after graduating from college. My husband and I were blessed to have good careers, I worked as a pediatric nurse and my husband was active duty Air Force. As an auntie to my adorable nieces and nephew, I couldn't wait to have a family of my own.
Three months into our marriage, we had a surprise pregnancy. Even though it wasn't a planned pregnancy, it was very much wanted. We called all of our close family and friends to share the baby news. Mind you, this was pre-facebook, twitter, and Instagram; we were on the phone for hours it seemed.
I remember going to our first baby appointment, we were so giddy with excitement to see and hear the baby for the first time.  As I was laying on the exam table, I had a feeling that something was wrong…the doctor couldn't detect the heartbeat with the hand held doppler. However, the doctor didn't seem concerned as it wasn't unusual this early in pregnancy to not hear a heartbeat, so she went ahead and did an ultrasound. After several long and agonizing seconds, she turns the screen my way and says, "I'm sorry, but there is no fetus." Whatever she said after that was such a blur. I was diagnosed with an early pregnancy miscarriage called a blighted ovum. It's where the egg is fertilized and a sac develops, but an embryo never forms. That morning, I left the clinic with a failed pregnancy and a prescription for extra strength Motrin.
During this grieving period, we had to explain to our family and friends that we weren't pregnant anymore.  They tried to console us with words of encouragement, hoping to appease us with, "You can always try again" or "At least you can get pregnant" and my personal favorite, "Everything happens for a reason". None of what they said, although well-intentioned, could repair the ache in my heart. For months it was painful for me to celebrate the pregnancies of my closest friends or even walk passed the baby section at Target.
Even though it was difficult for me to cope with the pregnancy loss, I prayed for God to help me understand why this happened. That if it was not yet time for me to have a baby, then when would it be? I knew the best thing to do was to place my faith and trust in Gods hands.
Two years later, my husband and I moved overseas to Belgium. While there, I suffered yet another miscarriage at 8 weeks pregnant. This time, there WAS a fetus but the baby died in my womb. I had to have a procedure called a D&C to remove the fetus. Not even two months later I had an even more complicated pregnancy, called an ectopic pregnancy. The fetus was growing in one of my fallopian tubes instead of in the uterus.  These types of pregnancies are rarely viable. Not only did I lose the baby, but I also lost one of my fallopian tubes, which would make future pregnancies, and my dreams of becoming a mother even more challenging.
Physically, I recovered quickly, but emotionally I was a wreck. Though I had plenty of support, suffering a miscarriage, or three, is truly an isolating experience.
As days turned into weeks, I started watching adoption stories on TLC. I became a little obsessed with the notion of adoption. I spent hours poring over websites and googling adoption agencies. I learned that as Americans living overseas, the adoption process can be complicated. After several online inquiries and email exchanges I found an agency that was willing to work with us. Now, I just needed to convince my husband to agree to it.
Because of my husband's job, we had to move again. We moved 4 hours away, to the neighboring country, Germany. One evening, after my husband came home from work, he started helping me unpack some of our boxes, I sat him down and told him that I wanted to adopt AND that I sort of already submitted an application to an adoption agency.
He was reluctant at first.  He was juggling the challenges of work, our new home, a new country, and now this. He said he wasn't sure how he would feel about raising someone else's child. If he could even love a child that was not biologically our own. I understood his fears and concerns and I did not want to force him into choosing adoption. Instead, we turned to prayer, and we asked God for guidance. Weeks had passed, I don't remember the exact day or time, but one day, out of the blue, my husband just said, "Ok, I'm ready to adopt!"
We spent endless hours researching which country to adopt from, when we finally came to a decision, it wasn't an easy one.  Among our choices were Kazakhstan, Philippines, China, Korea, Guatemala, and Colombia. There were several factors that we had to consider. Some countries had very young infants and other countries had only older children or children with significant health issues. Adoptive parents-to-be were not allowed to choose a specific gender. The adoption costs also varied from country to country, the total cost was anywhere between 16k to 30k. Our only request was that we wanted a healthy infant. Through prayers, God eventually led us to choose Colombia.
Our adoption process went by relatively quickly and smoothly. We started the process in May of 2006 and by October 2006, just a few days before my husbands birthday, I received an email from our adoption agency, that read "an orphanage in Colombia has a perfect child for you, an amazing match!"
Attached was this photo. His birth name was Simon and he was 2 and a half months old.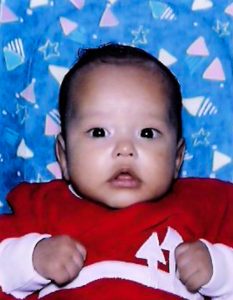 We had 24 hours to accept or decline. Of course we didn't have to think twice about it, we accepted immediately.
One month later, in November 2006, like nervous new parents, we hauled our overpacked suitcases filled with baby items, a huge bulky diaper bag, a stroller and a car seat, and got on an airplane to travel to Bogota, Colombia to meet our son whom we named Benicio.
My husband was the first one to hold him and let me tell you, it was the most beautiful thing I have ever witnessed. Benicio looked up and smiled at his dad and then he smiled at me. It was as if he'd been our son all this time. He was just patiently waiting for us.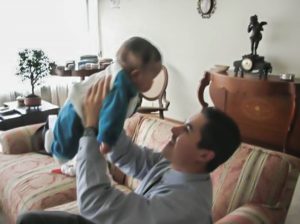 I realize that adoption may not be for everyone, but for us, it was the path that God wanted us to take. Even if this child was going to be my only child, I didn't care, as long as I had the privilege of being his mother.
To the childless couples and childless women out there who are longing for a child to call your own… If your journey to parenthood or motherhood is too difficult or too painful… don't lose hope. Always put your faith and trust in the Lord.
Just two months after we adopted Benicio and brought him home, I found out that I was expecting. In 2007, after a normal textbook pregnancy, we welcomed a healthy son named Christian.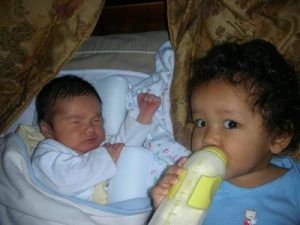 AND the blessings didn't stop there… in 2010 I gave birth to my daughter Naomi,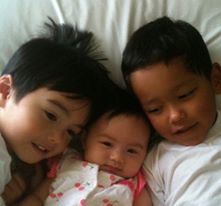 in 2015 I had another daughter, Penelope,
and, lastly, in 2017, we welcomed our third baby girl, and 5th child, Genevie.
Like my favorite doll I had mentioned in the very beginning, I wrap these little bundles lovingly but I don't have to pretend someone placed them at my doorstep, because I know exactly who sent them to me.
Nerissa Hunter's story is also on incmedia.org/faithspeaks