Attention Former Church-goers!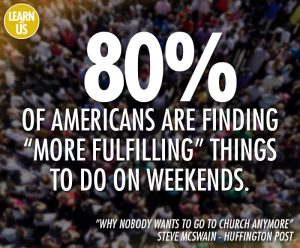 Could you be a victim of Confusing "Christianity"?
What turned you off the last time you left a church service and made it your last visit?
Are you still clinging to the religion of your youth — but frustrated or disappointed?
Has all that time away from serving God done any good for your soul?  
We were created with a deep human desire to connect with our Creator; what now fills up the time that used to be time for Church services?
Are you ready to give religion another chance?
Perhaps you're a victim of confusing "Christianity".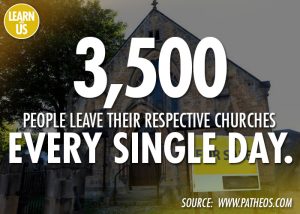 Confusing "Christianity" is absolutely frustrating.
If Christ established one Church, why are there so many different ones?

Preachers that teach personal agendas instead of divinely guided instruction.

Pastors that lead with man-made teachings that they can't justify with biblical proof.

Church doctrines and practices that contradict each other and contradict the Bible.
The Bible is the only source for God's words. Many self-professing Christians have faith that this is true. Therefore, shouldn't there only be ONE true faith?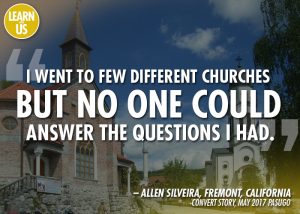 "Growing up I went to few different churches but no one could answer the questions I had. In fact, it seemed most of the preachers would rather talk about what they did in their personal life and somehow try to relate it to the Bible rather than teach the words of God. That led me to stop going to Church for many years." – Allen Silveira , Fremont, California. Convert Story, May 2017 Pasugo
Confusing "Christianity" is wearisome.
Are my prayers being answered?

Am I praying the right way?

Where do my offerings go?

How do I explain this to my children?

Does all this lead to salvation?

Is salvation that simple?

Is this what the Lord Jesus Christ sacrificed his very life for?

Am I being led properly? To what? To where?
Confusing "Christianity" is everywhere.
About 4,000 churches in the United States close their doors each year. – www.Patheos.com

Every year, approximately 4,000 churches are birthed in the U.S. – Christian Post.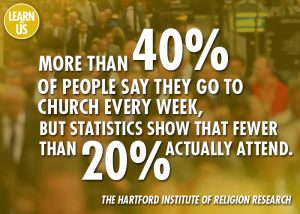 Even the statistics don't match.
But don't let confusing "Christianity" steer you away from what you really want, and need. Your search doesn't have to be this difficult.
Religion is the way back to God – and the true Church is a core piece in that journey.
Did Jesus Christ give up His life to confuse people? Christ died for His Church. We can't separate the Church from Jesus and think we can still get close or hope to get closer to Jesus. The Church is the body of the Lord Jesus Christ. Without Jesus, there can be no Church; and without the Church, we cannot say we are united with the Lord Jesus Christ.
So that puts us back on a mission. Not to avoid church. But to find the Church that Christ established.
The Bible encourages us to find the right path.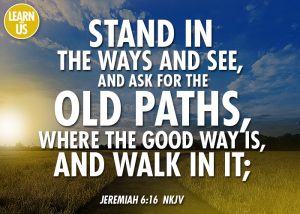 Thus says the Lord: "Stand in the ways and see,
And ask for the old paths, where the good way is,
And walk in it;
Then you will find rest for your souls.
But they said, 'We will not walk in it.'
Jeremiah 6:16 New King James Version
True Christianity is clarity of mind.
All the teachings should be backed up by scripture.

The Church should be able to prove through scripture that it is directly linked to Christ.

The preachers should teach from the Bible and not from personal story.

The preachers should be able to explain their

authority

, again backed by scripture.

The practices of the Church should be backed up by scripture.

The teachings and practices of the Church should work for the Church and not contradict each other or what is found in the Bible.
True Christianity does not leave salvation to chance, and it leaves no question about the true faith unanswered.
Instruction how to pray and how to recognize God's answer to your prayers

Explanation about who has the right to pray.

Who is God?

Who is Jesus Christ?

Who is the Holy Spirit?

What do I have to do to gain salvation through Jesus Christ?

How did Christ establish His Church?

What happened to the Church that Jesus Christ established in the 1st century?

How is it that His Church was able to re-emerge again?

How exactly will Christ save people on His Second Advent?

How was Christ resurrected after He died? Did He resurrect Himself?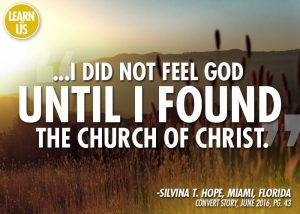 "I had been in search of the truth for a long time; I had been to ten different denominations, yet I did not feel God until I found the Church Of Christ." – Silvina T. Hope, Miami, Florida. Member for 26 years] – Convert Story, June 2016, pg. 43
True Christianity is energizing.
Benefits of worship service

in spirit and truth.

Deeper Understanding of the purpose of trials and sufferings.

Witnessing the victories of the Church Of Christ – and celebrating each one of them.

Divine leadership through a Church Administration appointed by God.

Missionary work – sharing the faith and spreading the truth.

Family success because of obedience to the teachings of the Bible and support through Christian Family Organizations and activities.

Opportunities to help others in need through

acts of kindness

.

A relationship with the Lord Jesus Christ, through membership in the true faith.

A relationship with the Almighty Father, the True God.

Membership in the one body of Christ
True Christianity is recognizable.
In True Christianity, we are the chosen people of the true God and recognized as His children.
Come check out the clarity that people have found inside the Iglesia Ni Cristo – Church Of Christ.
Visit a Local Congregation Nearest You: