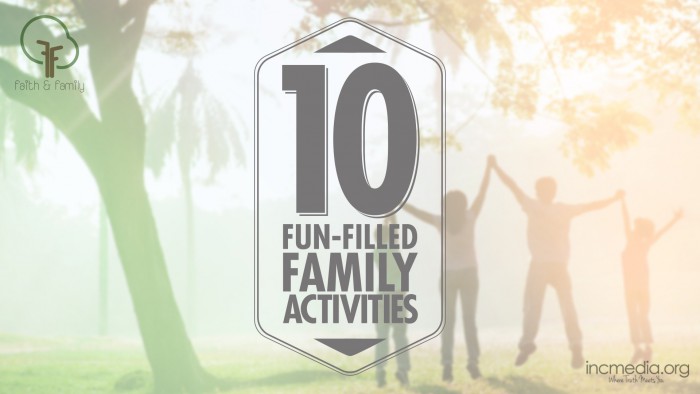 10 Fun-Filled Family Activities 
1.Family Fitness Night
This is a great way to get the family up and moving! You can play a sport together, create different physical activity challenges, or go to different places that promote physical activities such as a playground, trampoline complex, rock climbing gym, or even the local park. The goal is to promote health and enjoy a physical activity as a family!
2. Family Game Night
Games are another fun way to practice collaboration, communication and healthy competition. From classic board games, to the newest interactive game apps on our mobile devices, the options don't end. Choose as many as you'd like for the family to play together!
3.Movie Night
Who doesn't enjoy a great movie?! With streaming services, movies are just a click away. Make a night of it with the family and choose a couple of wholesome movies to watch together. Gather up the family, along with all your favorite snacks, and have a movie-going experience together in the comfort of your own home!
4.Cook Dinner Together
Cooking can be both fun and educational. It gives the kids (and parents) a chance to do something new and learn the different facets of the culinary arts. From preparation to execution, lessons can be learned along the way. Even eating a dish can be a whole new experience! Be sure to choose a dish the whole family will enjoy making, and most importantly, one everyone will enjoy eating. (yum!) 
5. Star Gazing
We often forget that some of the most beautiful sights to be seen are right above us in a clear evening sky. What better way to experience this than with those that you love? Find a quiet local area that's away from all the bright city lights. This will give you a clearer view of what the night sky has to offer. Bring a telescope or even some binoculars and spend some time together as a family; finding the different stars, planets and constellations.
6. Nature Hike
Get out of the house and explore nature with the family. Hikes are a great way to exercise and learn about some of the natural wonders and wildlife that are in our local area. There's no need to book an exotic trip. You'd be surprised with what we can find in our very own backyards! If it's the first time for you and your family, be sure to find a local, well-mapped trail that is officially maintained by your local park services. To make it a more educational experience, find a nature handbook for your local area and use it to identify different plants and animals you may see along the way.
7. Backyard Movie Theater
The backyard movie theater is a variation of a family movie night but with a twist…as the name implies, it's outdoors! There are online resources on how to create your own backyard theater. This in itself can be a great activity that the family can work on together. Whichever route you go, enjoying a movie under a clear night sky with the family can't be beat.
8. Attend A Local Professional Sports Game
The cheer of the crowds, the glow of the lights, and the buzz in the stands all add to the excitement of professional sports games. It can be a great experience for the whole family. Sharing a common sport and even a common team to cheer for can help in strengthening the family bond. It might even inspire some to take up a new sport.
9. Complete A Fun Science Project Together
Yes, science is not only educational, but it can be fun too! There are countless online resources for fun science projects that the entire family can work on together. Biological processes, chemical reactions and the laws of physics are constantly applied around us everyday. Just ask your family to fill in the following statement, "I wonder how/why ___________." Then, using that key word, type the following into your search engine: "Science projects:____________". Browse through the results and find the best project to work on with your family. 
10. Backyard Camping
This is a great alternative to traditional camping. There's no need to travel to a campsite and the comfort of home is only a few steps away. The family can enjoy being outdoors; and the novelty of setting up tents and a campsite can be another way to practice teamwork. Take the time to play some games, tell stories, and bond as a family.
(Now if you decide on backyard camping and you're feeling ambitious, you can actually plan for an Ultimate Family Fun Night by doing everything that is on this list, aside from numbers 6 and 8, all while camping in your backyard. Is your family up for it!?)
Whichever activity you choose, always remember that the time we spend with our family is truly a blessing from our Almighty God. It is the time we can help build up their faith, love and hope along with our own. Don't simply choose an activity for the sake of having fun. Rather, use the activity to see how the members of your family are doing in their every day life. Strive to understand their needs and see if there's anything we can do for them. The simplest gesture can make the biggest difference.
Love,
Faith & Family Team