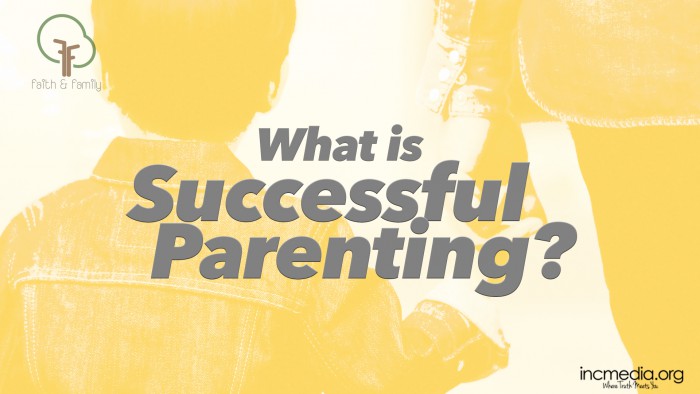 Successful Parenting
 The definition of successful parenting isn't what you think it is…
One of the things that parents who have survived their teenagers always say is that to maintain connections in those older years you should start early, when they're young, and in this day and age, children seem to be growing up way too fast!
It is proven that anything able to stand strong and withstand the 'elements' in life – will always trace itself back to its foundation. You can't build a high skyscraper on a weak foundation – so for every child, can we really build a bright future on a weak foundation?
Let's make a connection as early as possible because that is truly what the Bible teaches in the book of Proverbs 22 and the verse is 6, New King James Version:
Train up a child in the way he should go, And when he is old he will not depart from it.
OK. So for us parents we may then ask, "What kinds of lessons should we teach our children?
In the Church of Christ, we receive the commands of God and for us they are our solid foundation and guide. Their purpose is for our good future. For our children, if there's one really important lesson they need to learn early, it is recorded in the book of Psalms 111:10, New King James Version:
The fear of the Lord is the beginning of wisdom; A good understanding have all those who do His commandments. His praise endures forever.
One of the first principles, one of the fundamental teachings that we need to instill in the hearts and minds of our children is to have fear of God. Of course, when we talk about fear of God, it's reverence for God; it's desiring to please God. And so, if they have fear of God, if they revere God, even if you're not there, they will have that built in desire to please God. They will not do things just to please people, because when you go to school, sometimes, people will pressure you into doing something that is against the will of God. But if you have that built in desire, that reverence for God, you want to please God, you're going to make good choices in life.
So even when nobody's watching, what advice can you give us parents for when we feel afraid that the mistakes we make can maybe alter our children's future?
It's guaranteed, you're going to make mistakes. All of us make mistakes. All of us have our own faults. We have our strengths, we have our weaknesses – that's just part of being human. But the good news is, we don't have to raise our children by ourselves. In fact, the whole point, and greater purpose of why parents need to connect with their kids is so that we can connect them with the greatest parent of all – our Almighty God. But how do you do that? How can we lead our children to connect with the Lord God? Psalms 78 and the verses are 3, 4, 6 down to 7, this is what is written:
things we have heard and known, things that our ancestors told us. We will not keep them from our children; we will tell the next generation about the Lord's power and his great deeds and the wonderful things he has done. so that the next generation might learn them and in turn should tell their children. In this way they also will put their trust in God and not forget what he has done, but always obey his commandments.
It's good to be open with your children. Every trouble we face, God has a corresponding promise, and God has a corresponding blessing. This is why every struggle we go through is an opportunity for us to teach our children how to trust God. It's not easy to teach trust in God, because you don't simply tell your kids, "I want you to trust God, ok?" That's not how you teach trust in God. You teach trust in God when you go through difficulties, and then you pray to the Lord God. So be open with your kids and tell them about what God did for us. On a personal level, the Bible says "I will not hide from my children the wonderful things God has done for me," so share your stories, share those miracles, that way, when it's their turn to be adults, when it's their turn to be parents, when it's their turn to face different crises in life, then we know what they're going to do. They're going to place their trust in our Almighty God. If your children learn that, then you're successful.
The best lesson we can teach our children is to put their faith and trust in God.
We need to teach them and bring them to a place where they have hope and trust only in our Almighty God. The reason for that is we parents, whether we like it or not, we're not going to be around forever. Time will come when God will say it's time for you to go. But God – He's always going to be there. And so, even if we're gone, God has a promise for those who have learned to place their trust and hope in Him. And what is that promise? In the book of Psalms 27 and the verse is 10, Good News Translation:
My father and mother may abandon me, but the Lord will take care of me.
If we teach our children to trust and to place their hope in God, they're in good hands. Who's better at taking care of our children, than God? So, lead them to God, and God will take care of them and bless them even after we're gone. And so that's a successful parent. We don't have to be perfect, but let's make sure we succeed in leading our children to place their hope and their trust in our Almighty God.
Love,
Faith & Family Team